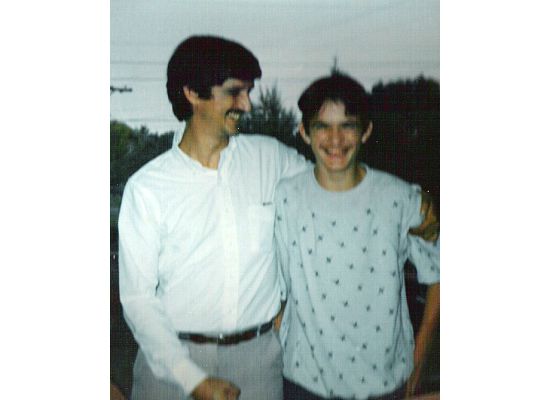 We have each grown up in different times and places. Some of our experiences have been similar ~~ many have not. Much of what was experienced in our childhood's has been forgotten or perhaps put aside as unimportant. For some, early memories may be clouded by sadness or loss. But whatever the past has held for us, it is important to pause and remember...and more than that, to share our roots so that future generations will know from whence they have come."
(The names that are yellow highlighted are direct ancestors)
This is the family tree for my oldest son, Marcus, pictured with his Dad......
pictured with our son Marcus

Born November 20, 1952 in Rio Dell, California


Married June 30, 1972 in Beaufort, South Carolina


Divorced March 1976 in Glenn County, California.

Died August 10, 2010 at home in Apple Valley, Minnesota.


Wayne Kirby Vitchell
Born June 27, 1954. Had a daughter

Vincent Gary Vitchell
Born February 14, 1956. Had a daughter


Darlene E Vitchell
Born December 26, 1957. Had a son

Mary Vitchell
Born appox 1908

Anthony Joseph Vitchell
Born September 4, 1911 in Philadelphia
Died February 28, 1994. He married Hilda A Tomkinson who was born in Blue Anchor, NJ and died on June 15, 2008 at Manor Care, Cherry Hill, NJ.

Lucille Vitchell
Born appox 1914 and married Tom Denato. The 1930 census has her living in Philadelphia, Pennsylvania

Florence Vitchell
Born appox 1915



Alexander Vitchell
Born April 12, 1917
Died October 16, 1984 in Oregon

Vincent Vitchell
Born appox 1918 Pennsylvania

Clare Vitchell

Eleanor Vitchell
(married ? Horowitz)



Anthony Vaiciulis

Born May 15, 1883 in Lithuania and immigrated to US in 1901

Story told to me by my ex-mother-in-law was that they changed their name to make it more American sounding


Maria
Buried at the Methodist Church in Hurffville, New Jersey


Claude E Vanaman Jr
Born 1908

Frances Vanaman
Born 1910

Harry E Vanaman
Born 1913

Kirby J Vanaman
Born May 24, 1915 and died July 14, 1989

Bertram B Vanaman
Born June 24, 1917 and died December 23, 2001

Birdella Claypool Vanaman
Born December 5, 1920 in New Jersey
Died December 31, 1997 in Oregon

Floyd Grober Vanaman
Born June 10, 1923 and died October 2, 1988

Claude E Vanaman
Born January 23, 1886




Mary M Ford
Born 1889 in New Jersey




Mary


Born 1864
Immigrated in 1885 from Ireland

John Jesse James
Born September 1, 1947 in Scotia, California
Married April Lamb on July 31, 1970 and had 2 children

Susan Pearl James
Born January 5, 1951 in Scotia, California
Married Rollin Lowe on December 14, 1968 in Loleta, California and had 3 children


Carol Ann James
Born January 4, 1953 in Scotia, California
Married Timothy Earl Mills on October 16, 1971 in Loleta, California and had 3 children

Donna Lee James
Born November 24, 1955 in Eureka, California
Married Albert Steven Vitchell on June 30, 1972 in Beaufort, South Carolina
We had a son ~~ Marcus Alan Vitchell born August 2, 1973 in 29 Palms, California


I also had another son ~~ Scott Gordon James born January 20, 1975 in Beaufort, South Carolina who married Dana Loff and had 3 children: Makayla, Jessica & Austin

it was with great delight that recently we discovered I have another granddaughter named Tiffany

I married John Wilder Sr on June 5, 1989

Children from his 1st marriage to Frances Nevada Chase who was born in Illinois

Martha Elizabeth James
Born August 16, 1876 in Salem, Oregon and married Orval Worthington. She died December 27, 1966 in Santa Rosa, California. She had 11 children: Leila Frances; Leslie Orval; Anna Mae; Roy James; Oscar Oliver; Gilbert Richard; Raymond Leonard; Glenn Vernon; Rosella Esther; Carl Herbert & Viola Elizabeth

Sidney Elbery James
Born October 28, 1881 in Colorado and married Nettie Highfill. He died February 15, 1955 in Lake, California. He had 2 children: Leona & Julia Alice

Mary Ann James
Born February 6, 1884 in Ozark, Arkansas and married Orvil Ellis. She died May 20, 1975 in Fresno, California. She had 4 children: Tylee C; Nola; Wade & Orval

Following children are by his 2nd wife: Susan

Ernest James
Born 1891 ~~ stillborn

John Newton James
Born November 21, 1892 in Shawnee, Oklahoma and married Clara Kinman. He died February 21, 1951 and buried at Table Bluff, California. He had 1 child: Margaret

William Wylie James
Born December 27, 1895
Died while serving in the military in 1918 and buried at Table Bluff, California

Tylee Houston James
Born September 24, 1898
Died September 7, 1899 in Oklahoma

Alzena Dell James
Born July 17, 1900 in McCloud, Oklahoma and married William Lester Griffith and died September 21, 1931 in Eureka, California. She had 8 children: Lester James; Margaret Elaine; William Leonard; Gerald Leroy; Raymond Edwin; Elsie Irene; Alice Rosalie & Reece Ronald

Sara Ida James
Born April 20, 1903 in Meeker, Oklahoma and married Warren Davis & then John Monson and died May 19, 1997 in Fortuna, California. She had 5 children: Janice Arlene; Richard Lee & Lois Jean from Warren Davis. And Jack Fred & Donald Clyde from John Monson.

Wilzetta James
Born March 26, 1906 in Wilzetta, Oklahoma and married Sylvester "Harry" Moranda and died March 22, 2002 in Chico, California. She had 4 children: William Harry; Robert Bartel; Catherine & Harvey Sylvester

Theador Hollis James
Born February 24, 1909 in Oklahoma and married Isabell Levy Felton and died May 1, 2002 in Fortuna, California. He had no children

Jesse Merida James
Born July 14, 1912 in Fortuna, California and married Norma Fread on December 18, 1946 in Fortuna, California and died June 5, 1986 in Orland, California


Robert Newton James

Born April 28, 1845 in Blount County, Tennessee and married Frances Ann Eakins on July 27, 1865. He married a 2nd time to Lizzie A. He died October 2, 1924 in Quanah, Hardeman, Texas

Orpha or Orphy Alzena James
Born abt 1847 in Tennessee. She married Lyles Hopkins

John E James
Born September 17, 1848 in Tennessee. He married Sarah L and 2 children: Martha A & Albert. Then in 1900 he has a 2nd wife: Winifred J and both of the children are still living with them in Oklahoma. He died September 28, 1937 in Oklahoma

Mary Dialtha James
Born October 11, 1850 and married James Montgomery Eakins (brother to the wife of Robert Newton James) in December 1868 in Arkansas. She had 12 children: Elizabeth Algenia, Noah Wiley, Charles Blount, Susie Ann, James Robert, Jessie Oliver, Sam Houston, Mildren Dialtha, Lola Grace, George Calvin, Nellie Jane & Hattie F. They filed for homestead in February 1898 in Roger Mills County, Oklahoma

Allertice James

have never found more information on this son


Tylee Houston James
Born January 31, 1856 in Blount County, Tennessee he married Frances Nevada Chase and had 3 children with her. After she died he married Susan Ida and they had 9 children.

Samuel Mastin James
Born December 1856. He married Cressie.

W. M. C. James
(first name found spelled as Wylie, Willy & Wiley)
Born abt 1821 in Blount County, Tennessee and married abt 1843 in Blount County, Tennessee. He married Elizabeth and had 7 children. While living in Johnson County, Arkansas he was a Justice of the Peace Enlisted in the War Between the States on July 6, 1861 with Fannin Precinct 5 (home guard) in Fannin County, Texas. His rank was private, Company was the 14th Brigade and it was with the Army: TM Company and his captain was Hugh Wallace

Census information tells us that his father was born in Virginia and his mother was born in Tennessee

Elizabeth Bowen


James Milton Crossland
Born January 26, 1856 in Mississippi and died December 17, 1930 in California

Nancy Emma Crossland
Born September 28, 1861 in Alabama

Bettie Crossland
Born August 28, 1864 and died July 7, 1887

Sarah E Crossland
Born appox 1865 in Alabama

Susan Ida Crossland
Born November 18, 1866 in Glen Rose, Texas and died January 21, 1957 in Eureka, California

Martha Allamo Crossland
Born September 22, 1869 in Arkansas

Adella Crossland
Born October 23, 1872 in Texas

William G. Crossland
Born August 29, 1875 in Texas and died in May 1970 in Shattuck, Oklahoma

Lillie Grace Crossland
Born April 23, 1880 in Texas and died September 17, 1893

James Crossland
Born in 1826 in Echola, Alabama and died in 1869. He was married August 6, 1846 to Caroline Shirley who died before 1850 and married a 2nd time to Sarah Hancock on July 26, 1850. He was a Confederate solider. He was a Justice of the Peace.

Annie Crossland
Born in 1828 in Echola, Alabama and died May 22, 1914. She married ? Ellridge and then married a John Cox.

William Crossland

(more information can be found by clicking on his father's name: M.T.Crossland)

Born March 13, 1830 in Northport, Tuscaloosa, Alabama and married Sarah on October 28, 1852 in Tuscaloosa, Alabama and died June 24, 1890 in Mobeetie, Texas. He was a Confederate soldier, most likely in the 2nd Infantry Company C (Alabama)

Joseph Crossland
Born January 25, 1832 in Echola, Alabama and died August 29, 1881 in Daingerfield, Texas. He married Mary Cordelia Bowman on July 18, 1844 in Nashville, Tennessee

Mary Martha Crossland
Born in 1834 in Echola, Alabama and died in 1925. She was married to Stephen Hardy who died before 1869. She married Stephen Hendrix

Samuel Hess Crossland
Born in 1836 and died in 1859

Francis M Crossland
Born in 1838 in Echola, Alabama and died January 15, 1863. He was wounded during the war and died in prison in Murfreesboro, Tennessee.

Nancy A Crossland
Born in 1839 in Echola, Alabama and died in 1910. She married Mardis Bailey

Margaret Crossland
Born in 1841 in Echola, Alabama and died in 1892. She married William Murphy

Emily "Emma" Crossland (twin)
Born in April 1843 in Echola, Alabama and died in Senath, Missouri. She married James David Skelton

Elizabeth Crossland (twin)
Born in April 1843 in Echola, Alabama and died in 1914 in Vian, Oklahoma. She married Hiram Dozier Skelton on July 7, 1864

Louisa Crossland
Born May 29, 1845 in Echola, Alabama and died March 13, 1930. She married John Murphy Springer on December 20, 1866

Meridith Taylor Crossland Jr
Born May 3, 1847 and died in 1881. He married Mary Ferguson

James H Mills
Born abt 1833 in Alabama

Sarah Elizabeth Mills
Born March 3, 1837 in Tuscaloosa, Alabama and died January 29, 1933 in Loleta, California

Milton Jefferson Mills
Born abt 1840 in Alabama

George W Mills
Born abt 1841 in Alabama

Nancy T Mills
Born abt 1842 in Alabama

Martha Mills
Born abt 1844 in Alabama

Darcus Mills
Born abt 1847 in Alabama

Georgina Mills
Born abt 1860 in Alabama

Children from 1st marriage to Norman:

Dorothy Ione Fread
Born June 21, 1920 in Seattle, Kings County, Washington and died October 5, 1995 in Everett, Washington. She married 5 times and had 5 children from her husband James Joseph Massey. The oldest two were adopted by her aunt Laura Munk, there were: Bryon Elmer & Sharon Lee. Then she had Collen Massey. The youngest two were raised by her sister Norma, they were: Felicia Germaine Massey & Janeau Pearl Massey.

Norma Pearl Fread
Born February 26, 1928 in Molson, Washington

George Elmer
Born March 26, 1931 and died in 1932

Pearl then married Edward George Kowitz who was adopted by his stepfather and used the name of Murphy. They married March 13, 1936 and had 3 children. They were:

Edward George Murphy Jr
Born August 30, 1937. He was married 3 times and had 4 children. They are: Tara, Shauna, Chad Edward & Brian Thomas

Cora Lorraine Murphy
Born November 7, 1938 and was married and had 2 girls. She then married Desmond Evans, who adopted the 2 girls and they had another girl. They are: Kathleen Lorraine, Dilise Susan & Lorri Lee

Roselaine Murphy
Born November 27, 1841 and she married James David Isaman on July 10, 1959 in Seattle, Washington. They had 2 children: James David Jr and Roselaine

Omer Wesley Fread
Born July 11, 1891

Ernest Victor Fread
Born March 19, 1893

John Lester Fread
Born November 27, 1894

Norman Bryan Fread
Born October 26, 1896 in Rockdale Park, Franklin, Indian and married Pearl on August 18, 1918 in Seattle, Washington. He died May 3, 1957 in Seattle, Washington

George W Fread
Born abt 1903

William L Fread
Born abt 1853

Josephine Fread
Born abt 1854

George Thomas Fread
Born abt 1859

Emlis Fread
Born abt 1862

Charles Fread
Born abt 1863

Ada Mae Fread
Born abt 1865 and died November 27, 1943 in Greene, Ohio. She married a Pickett.

Emilus Richard Fread
Born January 1868 in Highland, Franklin, Indiana and married Sarah on September 9, 1890 in Franklin County, Indiana. He disappeared.

Sarah Etta Hollowell
Born March 21, 1871 in Rockdale Park, Franklin, Indiana and died in 1930 in Molson, Okanagan County, Washington

Rosina Hollowell
Born 1876

Alford Hollowell
Born 1882

Stella Hollowell
Born 1887

Clifford Hollowell (twin)
Born 1893

Clyde Hollowell (twin)
Born 1893

Laura Leafy Osterloth
Born May 12, 1891 in Little Wolf, Wisconsin. She died March 5, 1965 in Oroville, California. She married Walter Thornton and had a son named Edward. Then married Chris Larson and then married Elmer Munk. They adopted her nephew & neice (Dorothy's children)

Vern Edward Osterloth
Born June 20, 1893 in Ogdensburg, Wisconsin and died June 1, 1960 in Glendive, Montana. He married Ina Mary Blue in March 1924 and had 11 children. They were: Dorothy Mary; Nancy Louise; Vera Mae; Roberta; Joanne Marie; Eunice Jean; Harold Vern; William Edward; Richard Paul; James Allen & David Roger

William Arthur Osterloth
Born February 12, 1895 and never married

Elizabeth Rose Osterloth
Born May 5, 1897 at Royalton, Wisconsin. She had a son Raymond. She married Louis Hadley on June 21, 1915 and had 9 children: Harry Louis' Mary Irene May' Geneva Rose' Louis Alfred' Lawrence Albert' Harold Edward' George Frank' Adaline Lillian & Rose Elizabeth

Ethel Hellen Osteroloth
Born January 16, 1900 and died April 5, 1901

Pearl Eva Osterloth
Born December 12, 1902 in Kruger, Wisconsin and died June 5, 1985 in Edmond, Washington

Clara Mildred Osterloth
Born August 27, 1905 in Kruger, Wisconsin and died October 12, 2002 in Sumner, Wisconsin. She married Arthur Pernell and had a son named Leonard. She married Frank Smith and had a son named Darwin. She then married August Heintz in May 1930

James Danny Osterloth
Born 1907 and I have that he was stillborn

? Osterloth
Born 1910 and again was stillborn

James Osterloth
Born March 20, 1912 and died as a young child (10 or 11) while herding sheep and drowned in a flash flood

Henry Osterloth
Born March 15, 1915 and died March 16, 1915 in North Dakota

Frank Osterloth
Born 1869

Frederick Osterloth
Born May 24, 1870 in Wisconsin and died April 17, 1929 in Seattle, Washington

Emil Osterloth
Born 1874

Otto Herman Osterloth
Born 1876

Elizabeth Osterloth
Born 1877

Rudolph Osterloth
Born 1878 and died May 15, 1879

Louis Osterloth
Born 1887 and died July 21, 1918

Mettie pictured with her mother shortly before they were murdered.

Mettie Myrtle Dodge
Born April 10, 1872 in Ogdensburg, Wisconsin and was murdered on May 9, 1933 in Beach, North Dakota

Gussie Dodge
Born 1877