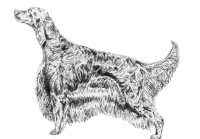 This litter was presold and all puppies were sold before they were born...
Wilders Follow That Dream
SIRE
Kinross Last Blue Moon
AM & CAN CH Captiva Quitte Ou Double, ROM

AM & CAN CH Captiva's Tommy Hilfiger
AM & CAN CH Cucuhullain Good Fortune, ROM
AM & CAN CH Quailfield Stylish Success, ROM
CH Captiva Mcderry Odds Are, JH
AM & CAN CH Captiva's Ride With The Wind
CH Mcderry's Almost Illegal, JH
CH Kinross Shalimar
CH Pure Geniuse By Clonageera
Clonageera Kieren
Pheanna of Clonageera
CH Rocklyn Parfait
AM & CAN CH Captiva's Ride With the Wind
CH Rocklyn Delicious

Autumn Moon Elspeth

(was shown)

Fleetwood Farms Jet Setter
Fleetwood Farms O' Danny Boy
Bellin Farms Fleetwood Gold
Shangrila Aint Misbehavin
Fleetwood Farms Sugar N Spice
Meadowlands Vicar O'Fleetwood
Candlestin Cloe of Fleetwood
My Sweet Candy Cane
The Life O'Riley
Redlands Dusty Boots of Texas
Rose Valley Zany Zazoo
Lady Holly Golightly
Buckshotseanmccoyofpacificrun
Leftover Lady Shawna
Wilders Flaming Star
DAM
Finnegan Red Mcpherson
Providence Tennessee Red Davey Rules
Jonah, Vieiera's Bold Ruler
Ikard's Darby O'Gill
Ikard's Miss Lilli Girl
Vieiras Big Red Ginger Belle
Dugger's Duke
Dugger's Roxann
Providence Reigns Undying Love
Celtic's Firefight
Come Back Fireboy
Celtic's Sub Rosa
Ganderleigh's Hannah Reigns
CH Courtwood Heavy Rains
Calspern Holly Elizabeth (imported from United Kingdom)
Charlars Shannon Marie
CH Chappell's Bristol Moon
CH Courtwood Heavy Rains
CH Courtwood Grand, ROM, TD, CGC
CH Courtwood Bandanna, ROM
CH Devlin's Chappel Belle
CH Meadowlark's Irish Monarch, ROM
AM & CAN CH Devlin's Jezebel
Gc Cinnamon Moonbean
CH Charlar Sovereign of Solivia
CH Shadowmere's Penny Pincher
White Oaks On Parade
Charlars Cinnabon
Ch Sit'N Tuckers Irish Jubilee, CD
CH Charlars Dancing Moonbeam, CDX
Born Dec 24, 2015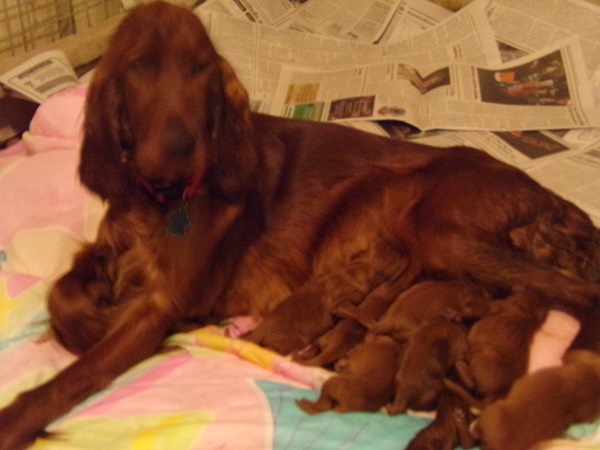 Pictured on January 21, 2016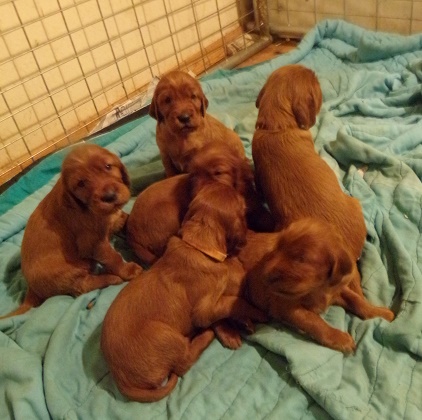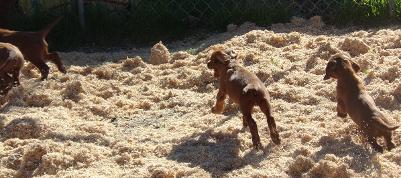 Had some beautiful weather today. just over 70 degrees so let the puppies outside for the first time and they ran and played ....will sleep good tonight.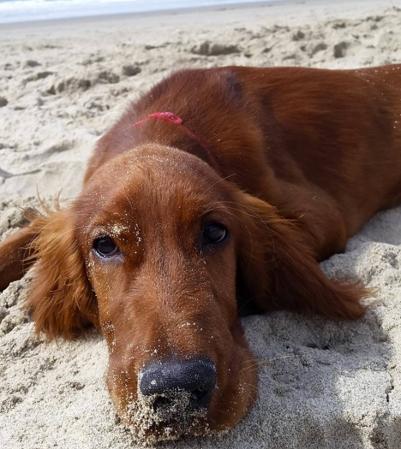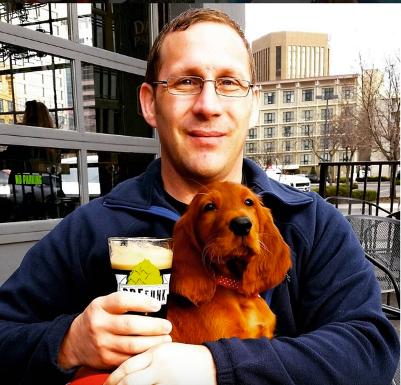 Scout loves living in Idaho, she gets to go on trips to the ocean and enjoy life in Boise.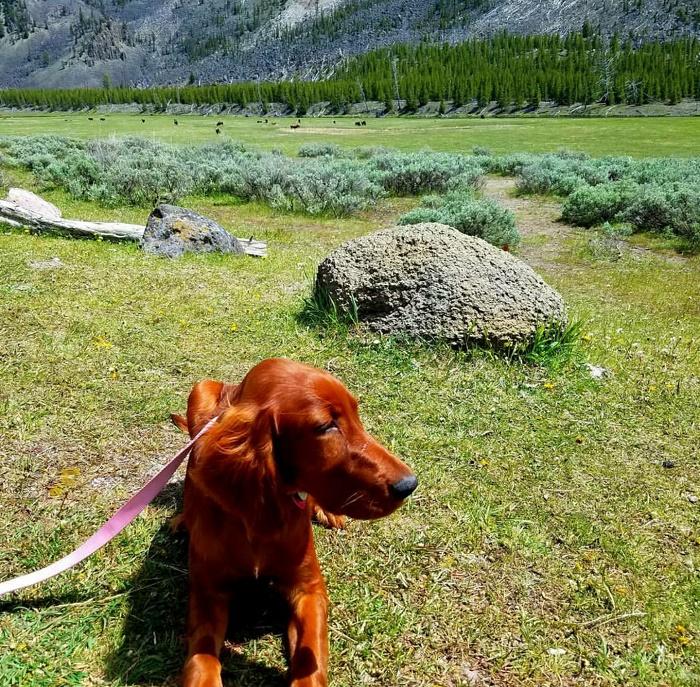 Scout (pictured above) is enjoying her vacation to Yellowstone...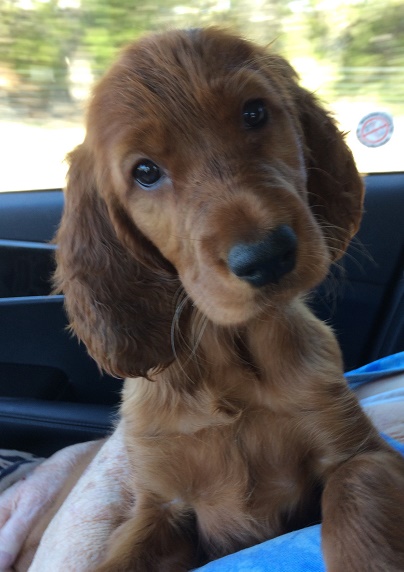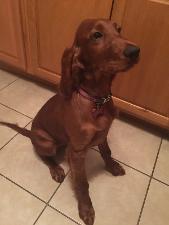 Penny is pictured at 4 months
"Penny" who is pictured to the left on her way to Texas was such a good girl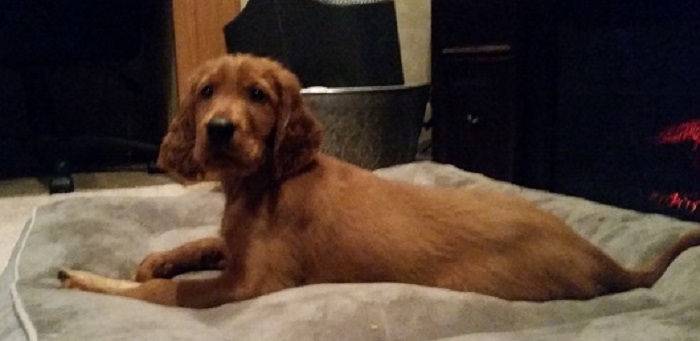 '"Abigail" is pictured above and to the right...she is living in central California..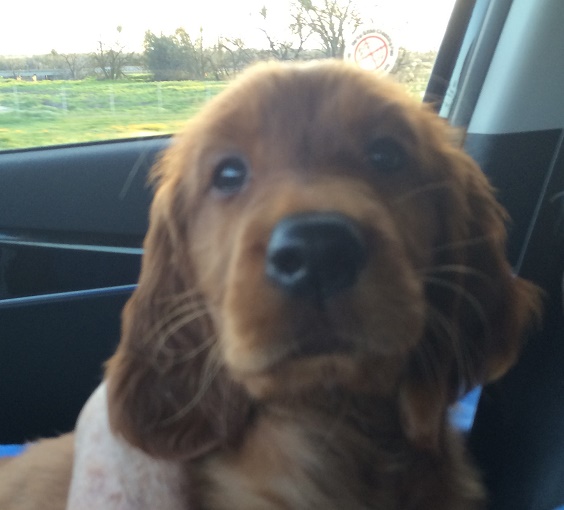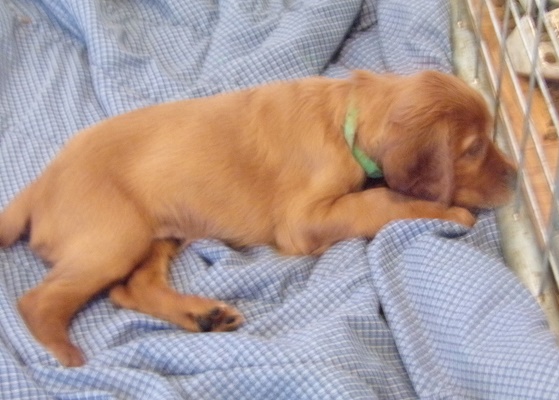 "Jamie Mae" has a great home in Washington and has already been to a care facility where she was a big hit and a resident spoke for the first time in a long time...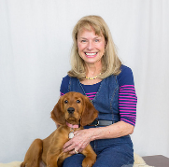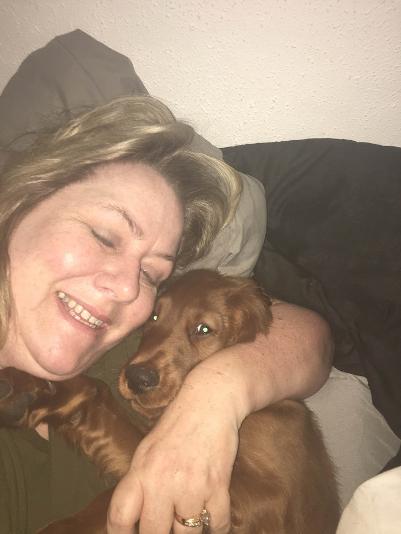 "Jett" was so well behaved on his trip to his new home in Iowa