Puppy in the top right is of a full brother to these girls from the last litter.
Puppies born January 2, 2018 ~ 2 black/white females
At 2 weeks of age they weighed 1 lb 4oz and 1 lb 3 oz ~~ an estimate is that they will weigh around 8-9 lbs as an adult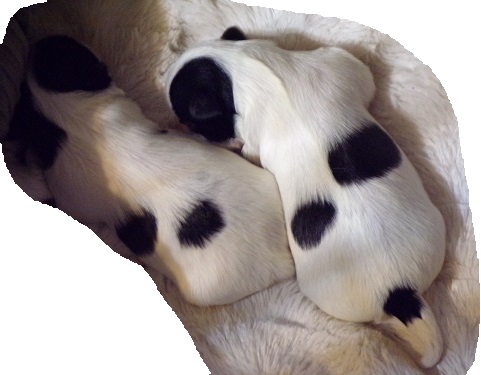 They will be available for $425 which includes a vet check when they get their first shots, worming & general health check. (A Shih Tzu puppy may have a Delayed Closures of the umbilical opening. This is a very common condition for the breed, and is not genetic in nature. The condition nearly always corrects itself by the time the puppy is 6 months old. A Shih Tzu puppy may have an Umbilical Hernia. This genetic condition is fairly rare except for puppies that come from breeding lines known to have the condition.Most veterinarians do not distinguish between the non-genetic Delayed Closure and the genetic Umbilical Hernia....IF your puppy is determined to have either a delayed closure or hernia it is YOUR choice to decided within 24 hours of notification to either have your deposit refunded or to take $50 off the purchase price OR to wait for 6 months and if at that time your vet determines it has not closured but is a rare umbilical hernia we will immediately refund to you $100....IF at the time of receiving their first set of shots the vet determines they have a crooked tail you can either take $50 off the price OR immediately I will refund your deposit. They also come with a puppy starter kit which includes: tote bag (reusable shopping bag with pictures of shih Tzu that are behind your puppy), food & water bowls, harness & leash (will be either solid black or with a black and white pattern), dog bed, dog toy (will be 2 squeaker dog toys), dog blanket, bag of puppy chow. We ask for a $100 deposit to hold your puppy so the balance due would be $325 when your puppy is ready to go home at 9-10 weeks....We can sometimes meet partways OR if you live a long distance we can sometimes deliver for our expenses and have done so out of state.

Sire is 3/4 Shih Tzu and 1/4 Maltese Dam is AKC Shih Tzu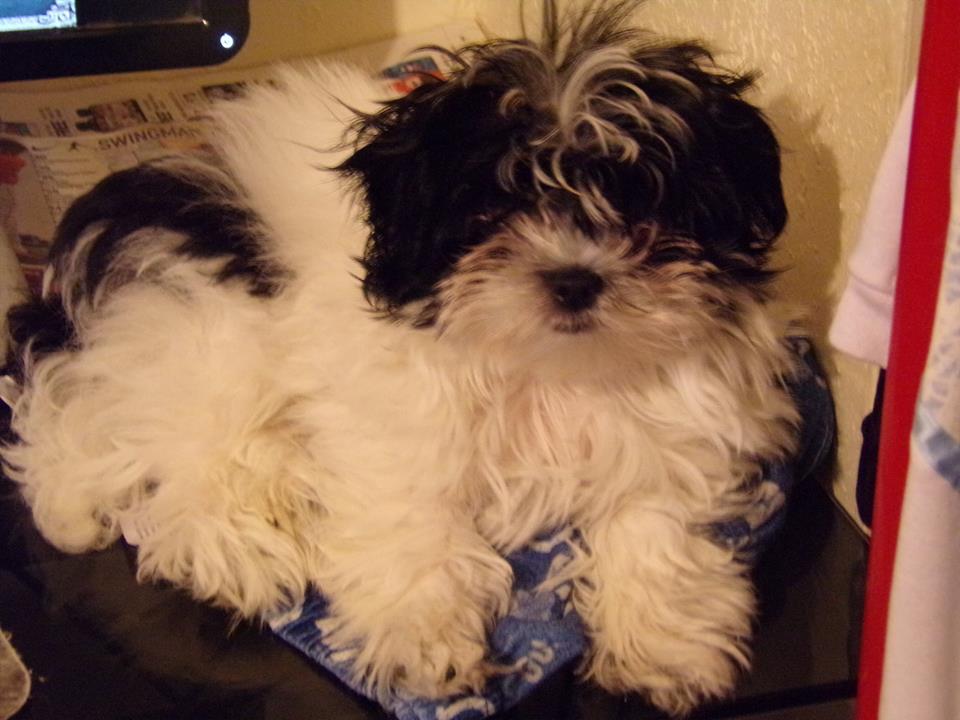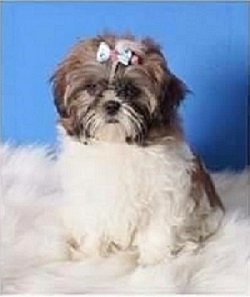 Puppies are pictured at 2 weeks of age
video clip at 3 weeks https://youtu.be/yQrpX8Jf-FA
https://youtu.be/4vTyyI9XkiI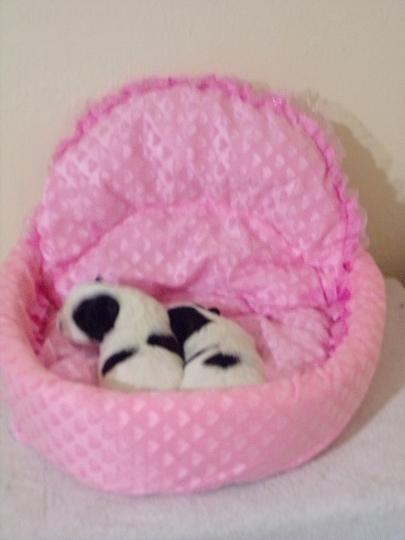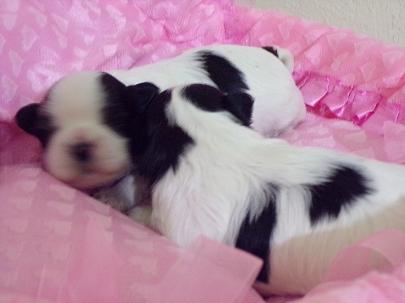 Puppy #1 ~~ She weighed 1 lb 4 oz at 2 weeks
She weighed 1 lb 10 oz at 3 weeks
Her blaze is slightly wider then her sister and she has the spot on the base of her tail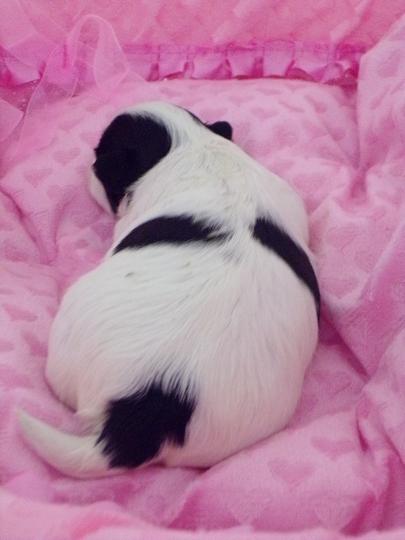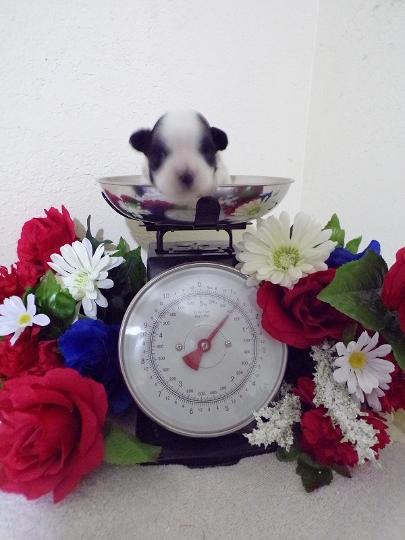 Puppy #2 ~ she weighed 1 lb 3 oz at 2 weeks
she weighed 1 lb 8 oz at 3 weeks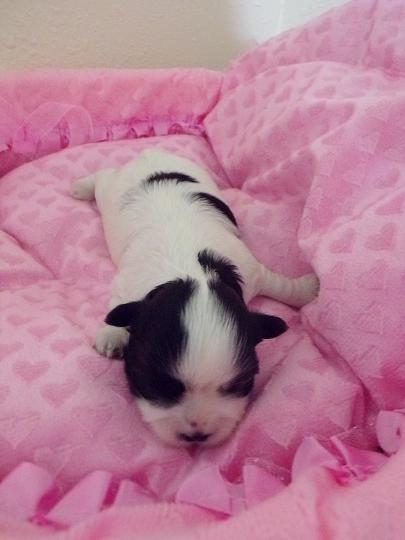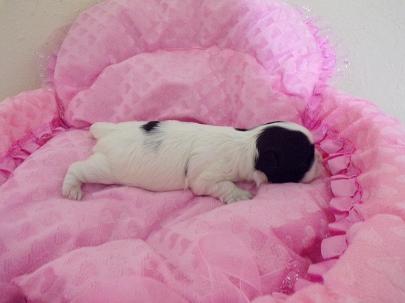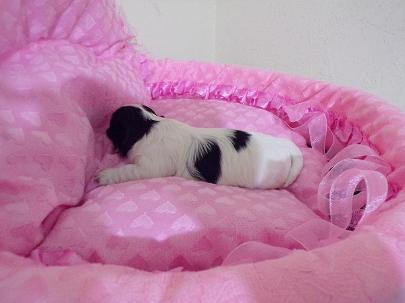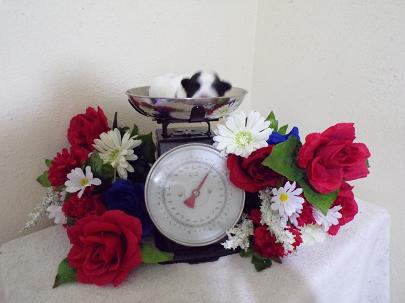 EACH puppy comes with a starter puppy pack.... The puppy pack includes: puppy bed, puppy blanket, soft plush dog squeaky toys, harness (small & medium) with matching leash, food and water bowls, tote bag (is a reusable shopping bag that has pictures of the dogs behind the breeding of YOUR puppy) and bag of puppy chow.....