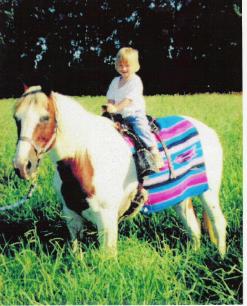 "KITTEN" was the first horse that the Grandkids rode. This picture was taken August 12, 1998~~which would make my oldest granddaughter 3 1/2 years old in the picture!
"SUGAR" was the beginning of my APHA horses. Here my second granddaughter is riding her
in the summer of 2000. She would also be 3 1/2 years old!
In the winter of 2002, we took in a Rescue Pony, named Roxy and all 3 of the grandkids loved her and learned to ride her. She was with us for 2 years.
In the winter of 2004, Sage came to live with us and again the grandkids have fallen in love with him.
Memorial Day 2005 was the first day they rode bareback ~~
From grooming to learning to drive Quicksilver's Tomahawk (aka Tommy) the kids loved their minis ~